There are 3 levers for website projects
Time
Budget
Goals
Time & Budget are self explanatory but Goals are where the gold is.
Goals represent what your project needs to accomplish.
Do you need more leads? To be seen as the best solution on the West Coast? Are you positioning your company as a thought leader?
The easiest way for a project to flop is to not be clear on what your goals are.
So let's get crystal clear on your project goals and we'll provide you the required budget and timeline for your project.
Schedule a call to get started.
An exact price requires a conversation to dive into what solutions are needed to solve your goals.
Thrive project budgets range from: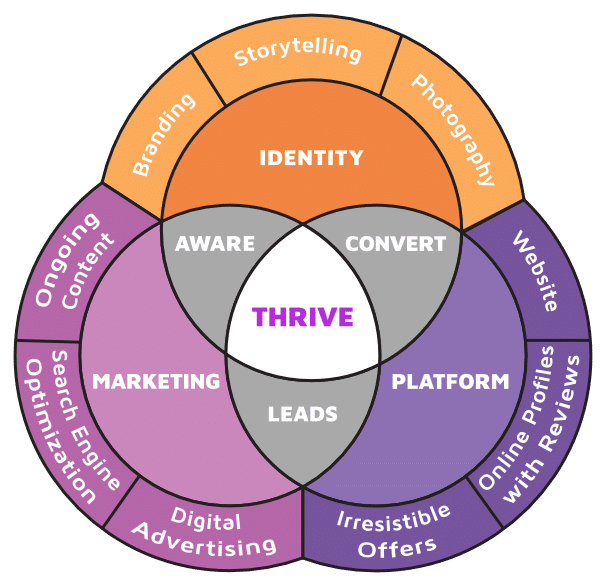 How we get to your project price

.
The outer rim of our blueprint for online success defines the nine services we provide to increase your authority, leads, and bottom line.
We will provide a recommendation based on the Goals of your project and the Results you seek.
If you'd like us to walk you through this model and determine the scope, cost, and timeline of your project please reach out.
In two phone calls we'll get clarity on your project & provide an estimate.
A website is just like a building a house.
Think of all the different types of houses and features, styles, and sizes of those houses.
It's the same with websites.
We are both the architect, interior designer, and builder of your website.
Let get to a price by scheduling a call with our strategy team.
For ad-hoc work our billable rate as of January 1st, 2020 is $125 per hour and we bill in 1/4 hour increments and invoice at the end of each month.
In order to be eligible for ad hoc work we require your website is in tip top shape by being on a WordPress care plan. 
For larger projects we provide fixed bid quotes for a fixed scope.
All of Thrive's staff work remotely from their home-based offices.
Noah (CEO) - Seattle
Adam (Design, Dev) - United Kingdom
Nick (Strategy, Design) - Australia
Holli (Photography) - West Seattle
Susan (Copywriting) - Orlando
Richard (Support) - San Diego
Carrie (Social Media) - Chicago
Simon & Matt (SEO) - Australia
Like a house, how long it takes to build depends on many factors including how large the project is, how available you are for feedback, and who is writing the content.
It depends on the kind of website you need. For example, a informational website Thrive 8-14 weeks including professional copywriting, photography, design, development, and rounds of feedback whereas an e-Commerce site can take upward of six (6) months.
Some factors that can impact the timeline are whether a project includes:
Photography package
E-commerce functionality
Membership functionality
3rd party API integration
Social media strategy
Has the client been involved in a website project before? 
Availability of client for meetings/review/feedback
Thrive takes December 22nd - Jan 2nd every year.
The good news is we come up with a timeline for the project as well as scope and cost during our intake process.
We also give email status reports every Monday with exactly what we have done that week and what is up next.
Thrive strives to have the best process and communication of any Seattle web design agency.
A solid discovery process will minimize any changes to scope but priorities can shift during the middle of a project.
Any new functionality, design, and content not outlined in the initial agreement will usually require changes to the budget and timeline.
Don't worry, we'll agree on any changes to the budget and timeline before the additional work commences.
A website is like a house, car, or vacation.
They all have wide ranges of prices that are dependant on the features, functionality, and finesse that you are looking for.
We ask a lot of questions in a one-hour conversation to figure out exactly what you are looking for, what it will take to deliver your ideal website, and how much that will cost.
We will find out the rough price of your project early on in phase 1 of our process. Soon after that, you'll have the exact price to deliver on your project.
Thrive's 7 steps to create a website
Website editing walkthough
website before & after videos

.