Your website is one of the most essential parts of your business. We live in a digital age where nearly everyone searches for brands, products, and services online. If you're not there with an optimized and valuable website, you're missing out on the vast majority of your leads and conversions.
Why you want to use WordPress.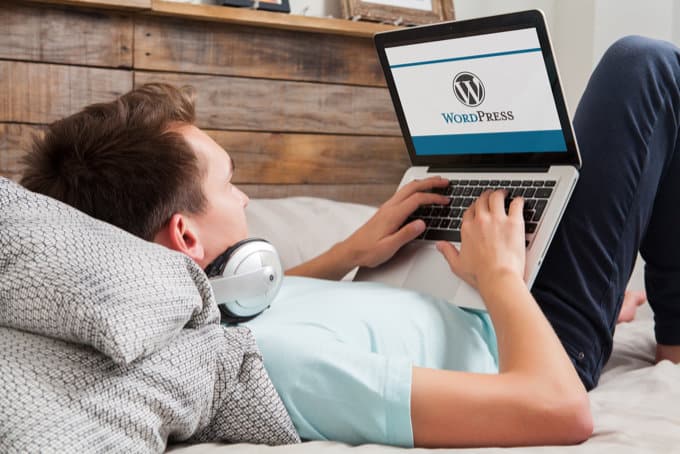 Developing and maintaining a valuable website takes a great deal of effort, knowledge, and marketing tools. You want your target market to be able to find your business when they're searching for something related to it, and you want your content, interactive material, and design, to keep them there. You also want to make sure that the website you design is affordable and will bring you a high ROI.
Using WordPress for your website will provide you with the ability to customize and create a site that is appealing to your target market. You will be able to create a site that ensures your audience not only visits it, but spends time reading through your content, watching videos, and learning about your brand, as well as potentially taking your site's call to action.
WordPress is the dominating website platform, beating other website hosting platforms by three times their combined websites! In fact, over 33% of the top ten million visited websites are hosted by WordPress.
With numbers like those, you can imagine that there is bound to be something amazing that you won't want to miss. Take a look at some of the unbeatable features and benefits of WordPress :
Free software.
Everyone likes free stuff. In fact, small businesses that are struggling to really get their business off the ground are very happy with free business tools. WordPress is free to use, although there are features and hosting that you can pay for.
Keep your website running for free, utilize the free features and support that WordPress provides, and have the peace of mind to know that your costs will be relatively low compared to others. You'll also want to research and learn about the potential costs that will come with using WordPress so that you're not caught unaware.
Thousands of plugins.
WordPress comes with thousands and thousands of plugins. Many plugins are free, while some can cost. Whatever you're looking to do or create for your website, the WordPress plugins will likely have an answer for you.

Many people continue to view WordPress as a platform for bloggers. While it's true that WordPress makes blogging simple and free for anyone, there are also a number of other uses that businesses can take advantage of.
The potential websites that you can make with WordPress include business websites, blogs, eCommerce websites, membership websites, galleries, chatrooms, personal websites, eLearning sites, portfolios, and many more. WordPress has great customer services so that you can take advantage of the adaptable website types and make them work for you.
Consistently updated.
WordPress is consistently worked on by top industry experts. There is regular updating, with added features and support, as well as assistance for any areas of trouble. While many platforms are stagnant, sitting back and collecting fees as small businesses struggle with getting their website up and running, WordPress is on top of changes, troubleshooting, and progress.
Supports most media.
There are a large number of media files that are compatible with WordPress, making it easy to upload anything that you want to use on your website. Categories of uploads include videos, images, audio, and documents.
This is important because you will need to add a number of distinguishing components to your website in order to help you stand out from other businesses in your industry. You will be able to upload any graphics, written content, and video that you deem relevant to the message of your business.
Final word.
You should be using WordPress.
There are so many incredible features and benefits that come along with WordPress, you just can't quite list them all. However, WordPress is free and the biggest kid on the block and you'll have no trouble finding a designer to set you up for success.
—
Thrive Design is a customer-centric WordPress web design agency from Seattle. Contact us today to find out how we can elevate your business online! Find us on Clutch, UpCity, LinkedIn, Facebook, and Twitter.