For more than a decade, UpCity's mission has been—and continues to be—to help businesses find B2B service providers they can trust. The UpCity Recommendability Rating was developed to determine a service provider's credibility and recommendability, giving UpCity the confidence to recommend them to the more than 2 million businesses that visit their site.
Each year, UpCity analyzes and scores more than 70,000 service providers based on their UpCity Recommendability Rating and acknowledges the top national and local providers with an UpCity Excellence Award. The results are in, and we won!
We are proud to announce that Thrive Design has been recognized as not only one of the best B2B service providers of 2022 in the Seattle area, but also one of the top B2B providers in the United States by UpCity!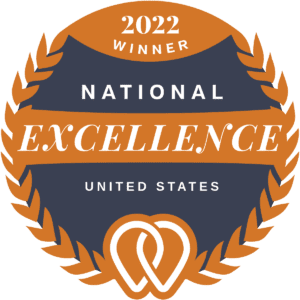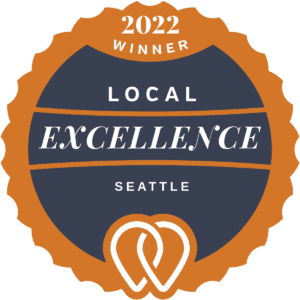 Joe Banks, SVP of Engineering at UpCity, had this to say about Thrive Design:
"Thrive Design are not only experts in their craft but also top-class professionals that treat every client like their only client. Their reputation as one of the best companies in the entire country has earned them this 2022 Excellence Award. Congratulations!"
—Joe Banks, SVP Engineering, UpCity
This recognition has been driven in large part by our 5-star review rating on UpCity. Here are a few of our favorite pieces of feedback we've received from our incredible customers:
"I started working with Thrive when I knew it was time to move my massive 14-year-old WordPress multisite install to modern website hosting. Thrive has been so helpful with website support on what turned out to be an enormous project, moving a complex and heavily customized cluster of websites containing 10k+ blog posts and 200k+ blog comments... all without anything breaking! Communication with Thrive was always easy -- they're very quick, detailed, and responsive. They even helped me figure out how to save over $1,500 on my annual web hosting bill! I'm now set up with their WordPress care plan, which is great for someone like me who wants to focus on content -- not the technical stuff. We are working on some big plans together with the website and I'm so happy to have a trusted partner for web design and development." - Ariel M., February 2021
"Thank you to Noah for always being quick and attentive to any assistance that I am in need of. The efficiency of support I get each time I reach out for help is exactly what makes me NOT hesitate to ask for help at any time. I appreciate the positive and supportive experiences from Noah and Thrive Design, especially during these crazy times!" - Annie C., December 2020
Thank you to all of our wonderful customers who have trusted us and allowed us to be a part of your business's story. Thank you also to UpCity for honoring us with this award.