Helping U.S.-based businesses  establish legitimacy online.

Define your ideal customer, who you are, what you offer, and create an authentic and compelling visual identity.
Showcase your offer, legitimacy, and expertise online with a uniquely designed and professional website.
Discover how your ideal clients hire companies like yours and get your brand & website in front of them.
Your website must instill confidence

.
Your website can be the #1 creator of legitimacy for your business. However, we first must create a strategy that will meet your unique goals.
Work with Thrive to explore your company's needs and create an online strategy. Our projects can include branding, photography, copywriting, web design, and digital marketing.
As part of this strategy we'll narrow down exactly who your ideal customer is and how your offer solves their needs. We'll also get clear where your website fits into your sales process..
Let's create an online presence that will attract the best customers and repel those you'd rather not engage with.
Contact us and we'll set up a time to chat.
"Thrive communicated seamlessly through weekly meetings and regular emails. They were responsive, delivered on time, and rose up to the challenge on more than one occasion."
-Mary Kate
Marketing Manager, ACT
"We think it was a flawless job from start to finish with all the project complexities involved. From our new logo to the website and moving calculator we are thrilled."
-Charley Bowling
Owner, NEO Moving
This is our #1 question and the only way to give an honest answer is for us to have a conversation with you.
We must fully understand your business, your offer, your target audience, your goals, and what problems the project will solve before we know what needs to be done. This will dictate the final price.
We believe that prescription without diagnosis is malpractice.
Here are a few initial questions to help you determine the scope of your project:
Who is your ideal customer?
What is the #1 action you want your ideal customer to do when they interact with your website?
How will we know this project has been a smashing success 12 months from now?
What marketing are you doing now for your business? How will this change once this project is complete?
Do you sell products online?
Do you already have a logo and does it resonate with your ideal customer?
Are we replacing an existing website
What is and isn't working on your existing site?
How many monthly visitors do you receive right now? How many become leads? How many of those leads become customers?
Do you have a professional copywriter on staff?
Do you already have professionally shot photos?
Absolutely.
In fact, here is a video showing exactly how user friendly the editing experience is.
No coding, no fuss, no needing to call a developer.
100%
We understand that owning your website & content, even for a small business, is a critical part of solidifying a future online.
Once we receive your final payment, copyright is automatically assigned as follows:
You own the graphics and other visual elements that we create for you for this project. We will provide you with the original vector files as well. No funny business here!
You also own text content, photographs, and other data you provided unless someone else owns them.
We'll give you a copy of all files which should be saved in a safe location. We are not required to keep them or provide any native source files we used to make them if they are lost or corrupted.
WordPress is an open-source content management system. You have full rights to the usage of the code as well including the CSS, HTML, PHP, or other programming used.
Our #2 most asked question!
The time required to design your website is determined by three (3) factors.
The scope of the work to be done (logo, copywriting, photography, web design, etc).
The availability and skill of the team that is building it.
How quickly the client can provide feedback and their availability for any necessary team meetings.
That being said, an authority website takes Thrive 10-14 weeks including professional copywriting, photography, design, development, and rounds of feedback.
E-commerce and membership can take 4-6 months and is this is greatly dependent on the number of features & products.
If you want to work with a web development company in Seattle that will take the time to determine an exact scope, cost, and timeline for your endeavor, contact us and let's talk.
For a full-scale project, we bid a fixed rate for a fixed scope. Contact us to get an idea of what that rate may be for your specific project.
For ad-hoc work, our billable rate, as of January 1st, 2020, is $125 per hour and we bill in 1/4 hour increments and invoice at the end of each month.
Clients must be on one of our WordPress care plans to be eligible for ad-hoc work. After all, how can we work on a website that isn't consistently taken care of?
Absolutely.
We host and maintain our client's sites after they are created through our care plans.
Need help with your marketing efforts or want to add eCommerce? We have you covered.
Want to add new designs or features down the road? No problem.
We love seeing clients and our own people grow and we will be there with you every step of the way.
Working with a new partner requires time, energy, and money and it's important you feel comfortable with that partner before going all in. The world of website agencies is full of overpromising and underdelivering and, frankly, it drives us nuts.
While we don't work for free, there are a few ways you can take us for a test drive and see if we mesh.
Set up Google Analytics so that you know who is coming to your website, where they are coming from, what search terms they are using to find you, what content they are consuming on your website, and what content leads to a sale.
Set up a Facebook Pixel in preparation for retargeting your website visitors with Facebook ads. Please start this at least 90 days before you'd like to run any Facebook advertising. 
Audit your website and find the ten (10) lowest hanging fruit action items in order to increase conversions, SEO, performance, security, and usability. 
Have us rewrite your homepage or create a blog post for you.
Invest in a Local SEO tune-up including Google My Business setup & citation submission.
We promise to be responsive, forthcoming, and have your best interests in mind.
If you'd like to try one of these starter services or learn about other options please drop us a line.
If they are awesome, yes.
We can extend your existing marketing firm with graphic design, copywriting, photography, and help from our SEO specialists to get you more traffic.
However, there is a benefit in combining your internet marketing agency with your development company.
We can provide that solution for you.
Online marketing services require a different set of tactics than what some traditional marketing agencies are equipped to handle.
We are happy to talk and work with your existing team.
All of Thrive's staff work remotely from their home-based offices. 
Noah (CEO) - Seattle
Nick (Strategy, Design) - Australia
Richard (WordPress Development) - San Diego
Holli (Photography) - West Seattle
Susan (Copywriting) - Orlando
Carrie (Copywriting) - Chicago
Joe & Matt (SEO) - Australia
Linda (PPC) - Australia
We understand the need for your development agency to work in US time zones with native English-speaking professionals.
By having our team across three major time zones (US, Europe, Australia) we always have the bases covered for your company. 
Our strategy and design sessions are held over video screen share.
During non Covid times Noah can meet in person anywhere between Everett, Bellevue, Tacoma, Kent, and Renton and of course Seattle itself.
Getting eyeballs onto their website is a priority for most of our clients. For this reason, we have a marketing department dedicated to your SEO, SEM, and social media marketing needs. To learn more about how online marketing fits within the grand scheme of things, please watch this video.
We love working with eCommerce clients and are currently providing solutions using Shopify and WooCommerce.
View this case study for a good example of what we can do for you.
Our full list of offerings:
how to get a quote from Thrive

.
step 1: book a clarity call
We'll explore the high level details and goals for your project on a call. If your project is a match and you like our vibe, we'll schedule a 2nd call.
We'll then discuss the options with all stakeholders on a more detailed call. At the end of this call we'll provide a ballpark estimate.
If your project is a match and you're happy with our estimate we'll write up a proposal for your review.
ready to get some clarity

?
let's have an open conversation about your project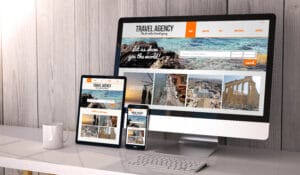 Did you know that, as of 2020, mobile internet usage surpassed internet usage on a desktop? In fact, in 2020, over 55% of website traffic is mobile-based. Here's another fun fact about mobile-based internet usage: users who search for businesses via mobile search are highly motivated to make a purchase. Sounds great, right? It is […]
Read More